NEWS
ON HIS RETURN FROM EIRE, WHERE HE PAID A VISIT TO THE DUNGARVAN LIONS CLUB IN COUNTY WATERFORD, IT WAS TIME FOR REG NORTON TO HAND OVER THE PRESIDENCY TO LION ALISON SALES. THE CEREMONY TOOK PLACE AT OUR REGULAR MONTHLY MEETING IN JULY. CLUB MEMBERS WERE JOINED BY TWO PROSPECTIVE LIONS, VIVIENNE PUGH AND DR. IAN CHRISTIE FOR THE INDUCTION OF THE NEW LION PRESIDENT.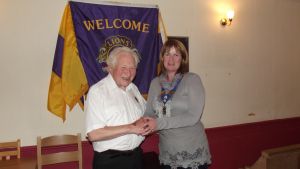 ALISON, WHO RECENTLY RECEIVED A VOLUNTEERING AWARD FROM THE MAYOR OF FAREHAM ON BEHALF OF FAREHAM COMMUNITY ACTION, IS PUTTING THE FINISHING TOUCHES TO HER TEAM FOR THE COMING TWELVE MONTHS. THE NEW OFFICEHOLDERS WILL BE ANNOUNCED, TOGETHER WITH LION PRESIDENT ALISONS' PROPOSED PROJECTS FOR 2015 - 2016. SHE HINTED THAT IT WILL PROBABLY FOCUS ON THE YOUTH IN OUR COMMUNITY. WATCH THIS SPACE!
IN HIS LAST WEEK AS LION PRESIDENT, REG NORTON VISITED SOUTHERN IRELAND AT THE INVITATION OF LION PRESIDENT SHAY O'CONNOR AND ATTENDED THE CHANGEOVER CEREMONY OF THE DUNGARVAN LIONS CLUB IN CO.WATERFORD WHERE HE PRESENTED A "FRIENDSHIP BANNER" TO THE INCOMING PRESIDENT.
REG, WHO WAS THE CHARTER PRESIDENT OF OUR CLUB IS SEEN HERE WITH LION DERRY TOOMEY, THE CHARTER PRESIDENT OF DUNGARVAN LIONS, AND LION JOHN HARNEDY, THE NEWLY ELECTED PRESIDENT OF THAT CLUB.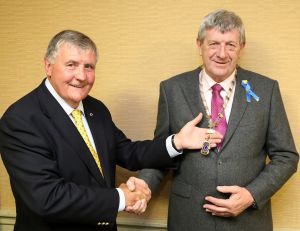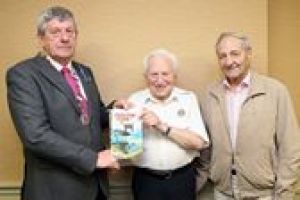 ****************************************************************************************************************************************
VOLUNTEERING AWARDS PRESENTED TO THREE CROFTON LIONS BY THE MAYOR OF FAREHAM FOR OUTSTANDING EFFORTS! CONGRATULATIONS TO LION DONNA CHANT, LION PAST PRESIDENT CHARLIE READ AND VICE PRESIDENT ALISON SALES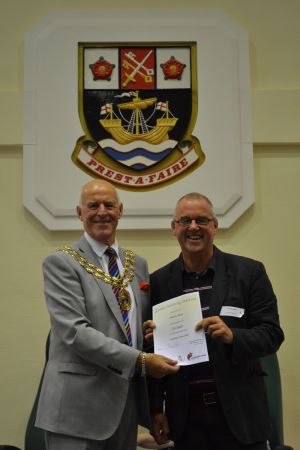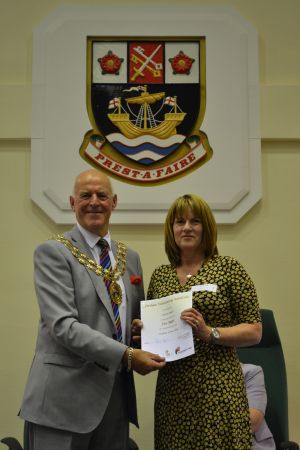 FESTIVAL OF ST.GEORGE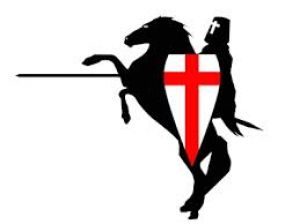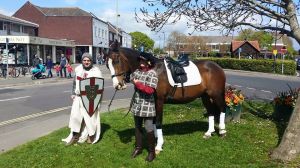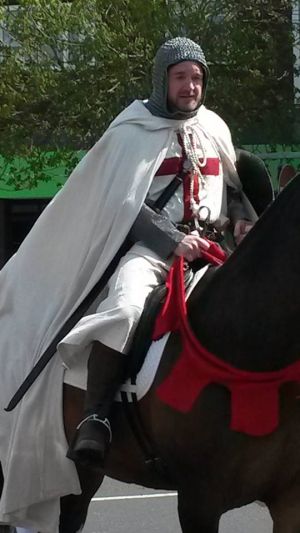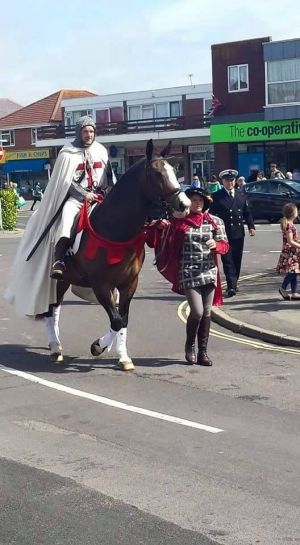 CHRISTMAS 2014 (Please see under "Events" for more detals)
WORLD SIGHT DAY OCTOBER 2014
World Sight Day (Thursday 9th October) was wet and miserable so we decided to mark the event at the weekend when the weather improved and more people were about for us to raise awareness of the problems faced by blind and partially sighted people. We were supported this year by an excellent group of young people called "Loud & Proud".
Their slogan seems to be "We may be young, we may be loud, but we're in this together to make you proud of the young generation!".....and they did!
CROFTON LIONS CLUB WITH THE LOUD & PROUD YOUNG VOLUNTEERS WORKED TOGETHER TO.......

..... RAISE AWARENESS OF THE PROBLEMS FACED BY THE BLIND, AND THE NEED TO HAVE REGULAR EYE HEALTH EXAMINATIONS

Loud & Proud members, Holly, Stuart and James prepare to set off on a "Blind" Walk

Holly with Lion Pal

Stuart being advised and guided by Lion Steve on the "Blind" walk around Stubbington Green

Negotiating the hazards of outside shop displays

Loud & Proud members James & Tonie

Crossing the road can be quite a problem especially when drivers are impatient

Taking a rest in the Village Centre with 'World Sight Day' Billboards to inform passers by

Tonie asked for, and got, help from another customer.
A real 'gentleman'

Shoppers were left in no doubt who we were.
The Hi Vis jackets said it all!

Holly, partially sighted, (note the frosted spectacles)
at the Co-op checkout

James, assisted by Lion Mike

When they finished shopping the youngsters,
still blind, had to check that their change
was accurate.
Paul, from Stubbington Snooker Club,
assisted the young people as they tried
The "Taste Test" attempting to identify
various hot and cold drinks

James (Blind) and Holly (Partially sighted) attempted to learn to play Pool guided only by verbal instructions and advice




The project finished with a visit to Brenda, a blind friend of Crofton Lions, to deliver the shopping they had bought earlier

Rachel was the one he chose to be
with and she calmed him down

The Loud & Proud Group stayed to discuss
their experience being without sight and to ask
questions of Brenda who had been blind since age 15.
They also met Lennie, Brenda's Guide Dog
PLANTER PROJECT
Today, Thursday 2nd October, saw the completion of another small but important little project for Crofton Lions Club. Two large brick "Planters" which had previously been overgrown with weeds and used as an unofficial litter bin have now been "Beautified"! Members of Crofton Lions, with the support of the Stubbington Sow & Grow Group and a volunteer from the Co-op planted a large variety of plants and shrubs transforming what were eyesores into a very pleasant addition to the village centre.

This page to be completed shortly
September 2014 The Official Opening of our "Outdoor Gym" Fitness Zone took place on Friday 26th September at 3.30 p.m. and club members celebrated the successful completion of the project!
| | | |
| --- | --- | --- |
| Lion Donna Chant who suggested the project | CHEERS! We've done it! | Thats the way to do it! Lion Steve explains to Lion Nelson |
| Lion Pal Hayre | Details of the Fitness Zone | Lion Mike Shipley, the Fundraising Chairman |
| | Lion President Reg Norton trying to catch up! | |
| | Sue Woodbridge, Manager of Parks & Open Spaces FBC with Lion President Reg unveiling the commemorative Plaque | |
| | | |
| | | |
Work started on 19th September to install of our latest project, an Outdoor Gym in Stubbington Recreation Ground. The five pieces of exercise equipment are sited near to the Childrens Play Area so parents can use the equipment whilst still keeping an eye on their children at play!
The Official Opening took place on Friday 26th September at 3.30 p.m. but the work that led up to that event is detailed in pictures below
| | | |
| --- | --- | --- |
| | | |
| Garth laying the foundations for the Equipment | | David preparing the concrete mix |
DAY 2

Having installed the supports for the Exercise Equipment work started on laying five tons of stones as a foundation

DAY 3

Hot tarmac arrives and so does the rain so there is a race against time to lay it before it sets
Day 4 Surface complete and the Equipment arrives
The kits are lifted into place and the

men are soon......hard at work!!

Friday 26th September 2014

The official opening of our Outdoor Gym
*************************************************************************************************************
This years Festival of St.George was a great success. Take a look in greater detail on our page designated to that event. You will find it at /events/festivalofstgeorge.html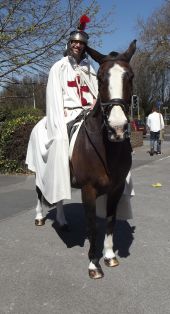 ************************************************************************************
It is with deep sadness that we report the death of Lion Doreen Norton in February 2013.
She will be sorely missed by our Club, by the wider organisation of Lions Clubs and by many in our community. Pupils at Crofton Anne Dale junior School took part in a special Morning Assembly to celebrate her life and recall many ways in which she was able to help individuals. Known as "Nanny Norton" to many of the children she worked as a Dinner Lady and also as a volunteer teaching assistant . The special Assembly ended with 350 children singing a song that reminded them of her, It was "Spread a little happiness as you go by!" Crofton Lions were delighted to have encouraged Lion Doreen Norton to join our ranks. She brought a great deal of experience to the Club having previously been a member of the Fareham Lions Club. She originally joined Lions in 1999 and in her time with Fareham Lions she has served as Secretary, Treasurer and two terms as President. She successfully completed a Lions Leadership Institute Course before becoming Zone Chairman, and followed that by becoming the District Sergeant at Arms. She had taken part in Lions European Forums in Brussels and Cyprus plus International Conventions in Birmingham and Chicago. She was one of the team of three guiding lions who helped to form our Club in 2000-2001 and was married to our Charter President Reg. Doreen worked for Solicitors in London and Portsmouth for 30 years (They let her out for good behaviour!).
THE CROFTON LIONS "PARALYMPIC" PUB CRAWL!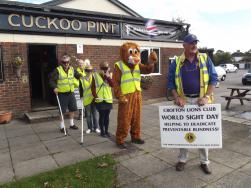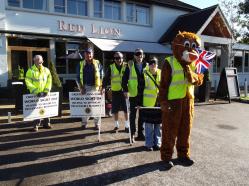 Safety Marshals Lions Nelson Sclater & Mike Shipley. Walkers Simon Triggs and Natalie Maddocks
To mark Lions 'World Sight Day' on Saturday 13th October 2012 the Crofton Lions Club invited two representatives from each of two local Pubs to join them in a 'journey for sight'. Led by a very special Guide Dog, who was later revealed as the Club Presidents husband, Lion Tony Stabler, and accompanied by safety marshals the teams walked blindfold round the busy shopping area in Stubbington and along a ¾ mile route to the next pub.
Taking part in an event of this kind is always more fun in a group but behind the 'fun' image was a serious message. As the teams progressed members of the Crofton Lions handed out leaflets explaining the need for everyone to have regular routine eye health tests at least every two years.
The Crofton Lions President, Vicky Stabler, congratulated all the participants for bravely accepting the challenge of being blind and she issued certificates of appreciation for Natalie Maddocks, Simon Triggs, Becci Williams and Alana Benson-Green. She explained that Crofton Lions are also concerned with sight problems in the Third World and said the Club would be pleased to receive donations of unwanted spectacles which would be recycled for use in developing countries. YOU could really make a difference by offering the gift of sight to someone who is needlessly blind.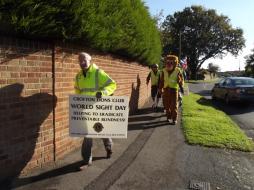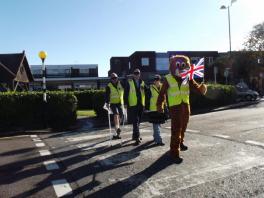 L to R: Lion Charlie Read, Simon Triggs, Natalie Maddocks, Lion Tony Stabler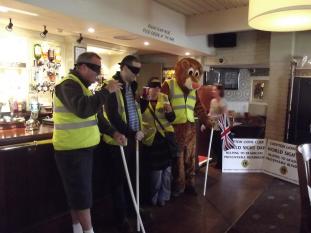 L to R: Safety Marshal Lion Mike Shipley, Lion "Tail End" Charlie, Becci Williams, Alana Benson-Green, & Lion Tony Stabler
CHARITY PRESENTATION FOR FADSAD
FADSAD (The Fareham & District Sports Association for the Disabled) is the chosen Charity for The Crofton Pub, our Lions Club HQ, so it was with great pleasure that Crofton Lions were able to present them with an additional £400 from last years 'Presidents Project'. The current Lion President, Vicky Stabler is seen presenting the cheque accompanied by Ian & Jenny Readman, the owners of the Pub.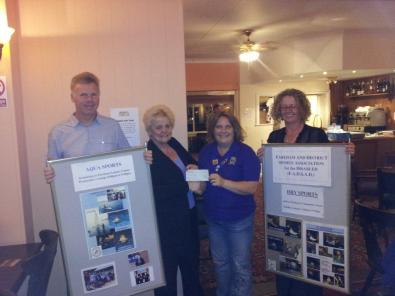 See below how we donated the other £1600.00
*************************************************************************************************************************
SATURDAY 1st SEPTEMBER 2012.
CROFTON LIONS PLAY HOST TO 94 ELDERLY RESIDENTS FOR OUR ANNUAL "SENIOR CITIZENS PARTY"
See Home Page/SENIOR CITIZENS PARTY
**********************************************************************************************************************
STUBBINGTON FAYRE & DONKEY DERBY

What a great day we had on Bank Holiday Monday 27th August 2012!
The annual Stubbington Fayre and Donkey Derby was probably the biggest and best we have taken part in. Many congratulations to everyone concerned. We are proud to be associated with the organising Committee.
This event has taken place on the August Bank Holiday for more than 40 years. It was originally organised by a group of business people, and later by Fareham Lions Club plus local residents. When, in 2000, the Crofton Lions Club was formed it declined to take over the event but instead suggested a partnership led by Fareham Lions with the active support of Crofton Lions Club and the local Business Community. It is now a major event in the local community attracting thousands of visitors. Take a look at the Stubbington Fayre page in the 'Events' section of this site. /events/stubbingtonfayre.html
***********************************************************************************
MAY BARHAM, A FOUNDING MEMBER OF THE CROFTON LIONS CLUB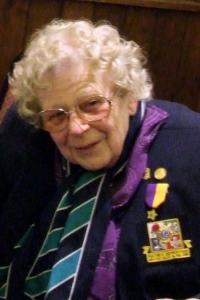 It is with great sadness that we report the death on Tuesday 24th July 2012 of May Barham. May had been the leader of one of the local Woodcraft Folk Childrens Groups looking after 6 to 9 year olds. She remained involved in that activity from 1968 until 1990. Then at age 80 she became one of the founding members of the Crofton Lions Club. In 2007 she received an International Humanitarian Award from Mahendra Amarasuriya of Colombo, Sri Lanka, who was the President of The International Association of Lions Clubs during that year.
Soon after that event, when she was no longer able to live independently, she moved into a Nursing Home near her son David in Leeds. David, his wife Julie, and their three children were then able to see her every day. Stubbington remained her true home, and she will return here to be buried beside her husband, Tom, in the cemetry at St.Edmunds Church (also known asCrofton Old Church.
The Funeral Service took place in St.Edmunds Church on Tuesday 14th August 2012 at 1.30 p.m. and was extremely well attended. Sincere thanks to all of you who were able to join us in paying our respects to May.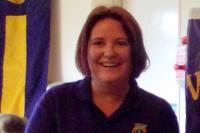 CROFTON LIONS ELECT NEW PRESIDENT
On Sunday 1st July the Crofton Lions Club held their Changeover Event at 'The Crofton' in HillHead.
Lion Vicky Stabler was installed as the 13th President of the Club and received her badge of office from the retiring President, Lion Reg Norton.
However, before that happened the event began with Lion Reg completing his project which was to give a donation of £100 to each of sixteen different 'Good Causes' chosen individually by the sixteen members of the Club. The organizations and individuals involved were as follows:
The Apostleship of the Sea

Lion Nelson & Elfi Gerhart-Ip

Naomi House

&

Jacks Place

The choice of Lion Mike

Crofton Youth Project

Lion Vicky & Jean

Peoples Dispensary for Sick Animals

Carol Connolly & Lion Edwina

Macmillan Cancer Support

Veronica Robbins & Lion Tony

Fareham MIND

Lion President Reg on behalf of Lion Charlie Read with Caroline Payne

Solent Diabetes Association

Gemma Howick & Lion Vanessa

StubbLee Hill Childrens Centre

Lion President on behalf of Lion Sheila Allen with Denise MacDonald

Dorothy's Dream (The Rowans Hospice)

Penny Taw & Lion Frances

Lion Carol chose

Solent Day Care Centre

Jan Loman, the Manager

Lion Marc chose the

Haven Nursery School & Childrens Centre

Lion Alison chose the

Chestnut Tree House

Childrens Hospice

Lion Donna chose the

Warsash Sea Cadets T.S.Tormentor

Stubbingto Luncheon Club

Carol Buckland & Lion Peter

GAFIRS

Gosport & Fareham Inshore Rescue Service

Keith & Joyce Thomas with Lion President on behalf of Lion Dan

Portsmouth 'Breast Friends'

were the choice of Lion President Reg.

Sandy Turvill and Ann Hiskey from the local Breast Cancer Charity receiving our donation.
**********************************************************************************
JUBILEE PARTY IN THE PARK
On Monday 4th June we organised a massive "Party in the Park" to celebrate Her Majesty's Diamond Jubilee.
***Take a look at our 'Events' page to see what a great success it was!
**********************************************************************************
DIAMOND VOLUNTEER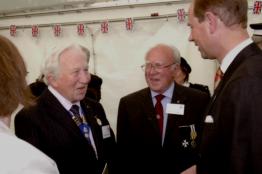 Lion President Reg Norton has been a volunteer in a range of organisations including Lions, the Air Training Corps, Woodcraft Folk and various school governing bodies for 62 years! Having been a volunteer throughout the Queen's reign he and his wife Doreen were invited by the Lord Lieutenant of Hampshire to a special event including a Service of Thanksgiving at Winchester Cathedral. He and all the other Hampshire "Diamond Volunteers" were presented to HRH Prince Edward, the Earl of Wessex.
Reg with the Lord Lieutenants Cadets

Doreen Norton with the
High Sheriff of the Isle of Wight

HRH The Earl of Wessex
**********************************************************************
JUBILEE TREE PLANTING

SIXTY TREES (ONE FOR EACH YEAR OF THE QUEEN'S REIGN) HAVE BEEN PLANTED
AT BAYCROFT SCHOOL,

AND A FURTHER SIXTY AT THE EX NAVAL TRAINING ESTABLISHMENT ON SEAFIELD PARK IN HILL HEAD. WE WERE ABLY ASSISTED BY SEA CADETS FROM T.S.TORMENTOR BASED AT WARSASH.
A 'FEATURE' TREE HAS ALSO BEEN PLANTED IN STUBBINGTON RECREATION GROUND WITH A COMMEMORATIVE BRASS PLAQUE.
AWARDS FOR SERVICE TO OUR COMMUNITY
At a special cereomony arranged by Fareham Community Action in the Council Chamber at Fareham Civic Centre the Mayor, Cllr Trevor Cartwright MBE presented certicates to four individual members of Crofton Lions. The Club President also received a certificate commending all members of the Lions Club. Then, as an extra surprise, the Lion President Reg Norton was presented with a special certificate marking the fact that he had been a volunteer throughout the sixty years of the Queen's reign!


Lion Vicky Stabler

Lion Mike Shipley





Diamond Volunteers
Joyce Robinson of
Open Sight Charity and Lions President Reg Norton with the Mayor,
Cllr Trevor Cartwright MBE

Lion Nelson Sclater

Lion Peter Holder
---
CROFTON LIONS HAVE PRESENTED THE STUBBINGTON MEDICAL PRACTICE WITH AN AMBULATORY BLOOD PRESSURE MONITOR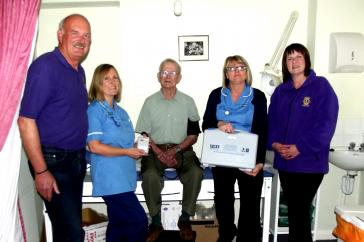 A welcome addition to the medical equipment at the Stubbington Surgery. Called an ambulatory Blood Pressure Monitor this piece of kit, costing more than £1300.00, allows the patient to go about their normal daily life whilst providing vital data to help the doctors decide on the nature of the treatment that should be given. This equipment has effectively double the capacity of the surgery.
Either side of the nurses are Lions Mike Shipley and Alison Sales. The patient is Mr Nelson Sclater (Also a Crofton Lion)
************************************************************************************************************************
Last Sunday, 12th MAY we had a great day out with a group from the Haven Childrens Centre to the 21st Annual Paultons Park Lions Picnic. We were so lucky with the weather! Sunshine all the way!
Pictures under 'Events' and the 'About Us' Tab for Highlights of 2011 to 2012.
Altogether there were over 3000 Lions and Friends taking part.

****************************************************************************************
APRIL The Festival of St.George on SATURDAY 21st APRIL was bigger and better than ever. The entertainment included old favourites like Geoffrey Gould the Punch & Judy Man, Jonathan the Jesters Team of Clowns, Stilt Walkers and Jugglers (Five of them!) and the Weorod Re-enactment Group shining a light on the Dark Ages in English History! We also introduced some excellent new entertainers including the Hampshire Garland Ladies Morris Dancers, Cascade South Downs Harmony Chorus, Orange Apples Storytellers, and Trigger the Train. Then, on SUNDAY 22nd there was a procession of Minis, Motorbikes and Scooters flying the flag on their traditional "Ride-Out" from The Red Lion in Stubbington.
Take a look at our special "St.George's" Page under the 'Events' Tab.
*****************************************************************************************************************************
HELP IN THE SOUTHERN UNITED STATES
The last few months have seen great destruction across our globe. But, like me, I am sure you are proud of how we Lions and our global Foundation have been quick to respond. Now, in the case of the Southern United States disasters, we are giving a hand and giving hope to those in greatest need.
The Foundation has already provided US$160,000 in emergency grants for immediate relief across eight states since mid-April. We are mobilizing an additional US$250,000 for continued relief efforts. The destruction and death tolls continue to rise from the deadly tornados and storms throughout the U.S. during the month of April. I continue to be shocked and saddened by this news. It is the largest tornado outbreak in the history of the U.S., with at least 178 tornados killing more than 300 people.
Thousands of people across several states have been left homeless. Lions have also been greatly impacted. But they are committed to meeting the urgent needs in their communities. In hard-hit Birmingham, Alabama, Lions have set up a warehouse staging area to collect and distribute donated goods, including emergency supplies such as water and food. Twenty-seven Lions clubs in District 12- O, Tennessee are providing 200 families with prepared food boxes, needed medical supplies and eyeglasses.
"Lions from around the world have called me to hear how the local Lions are doing," said Lions International Director Yamandu Acosta, of Alabama. He has received calls from Australia, Spain and Peru, as well as others. Lions, you know well that Lions Clubs greatest asset is our volunteers-you and 1.35 million Lions around the world. Wherever there is a need, there is a Lions club nearby, ready to respond with their hearts and hands.
Your generosity in the case of disasters allows us to be the first to offer help. Lions, I ask for your help in making the hope for a brighter tomorrow a reality for the people in these devastated areas.The most effective and immediate way to help is through a designated donation to LCIF for Southern United States relief. I have seen some of the recent destruction first-hand in New Zealand, and next month Margit and I will be in Japan and Haiti to visit with Lions and view our relief efforts there. Lions, we can take great pride in our long history of providing relief for as long as it takes. I hope I can count on you to once again give your full support to give help and hope in the Southern United States.
Lions Providing Immediate Relief in Japan
US$5 Million from Foundation Supporting Lions' Efforts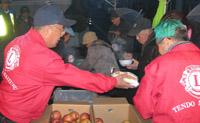 Japanese Lions serving traditional potatoe soup to evacuees.
In the case of disasters, Lions volunteers are often the first to respond, and continue to help for as long as it takes until all work is done. As volunteers of the world's largest service club organization, Lions live in the affected communities, so they best know the needs of the community and are able to respond quickly and efficiently. They share a passion for rebuilding their communities.
With more 107,000 Lions in Japan, they are already mobilizing to provide immediate relief. Lions Clubs International Foundation is providig US$5 million to support Lions' relief efforts. This includes grants as well as donations from Lions around the world.
The Foundation has established a designated fund for donations for disaster. Donations can be made in confidence, for 100 percent of every donation will go directly toward disaster relief. The Foundation has more than 40 years of experience in disaster relief, and all funds are administered by local Lions in the area.
"On behalf of all Lions of Japan, we wish to thank all of you for your support," said Lions Clubs International Director Yasumasa Furo. Lions are appreciative of the immediate response of the Foundation and Lions' worldwide.
The Tohoku Region Pacific Ocean Coast Earthquake is the worst earthquake to hit Japan in over 100 years. Following the earthquake was a powerful tsunami and fires. The death toll continues to rise, and tens of thousands of people have been displaced, and many Lions have also been personally affected. March 14 members were finally able to make contact with some Lions in the hardest hit areas, but remain concerned for the health and safety of many. The electricity and communications finally returned to the area on March 17.
Already, Lions have established two relief command centers in the affected areas, as well as one in Tokyo at the Lions Office. The Kinomoto Lions Club drove a 10-ton-truck full of emergency supplies to Fukushima . The truck included 3,500 servings of instant noodles, 2,400 2-liter bottles of beverages, 5,000 diapers, 1,650 boxes and 1,000 pocket packs of Kleenex, 1,500 disposable hand warmers, 400 cans of food, 300 servings of instant miso soup, 12,000 pairs of disposable chop sticks, as well as buckets, blankets, kerosene and more.In devastated Miyagi, Lions served homemade stew to 100 elderly. These are just a few examples of the many stories of Lions' exemplary service. Lions in Kobe are helping lead these relief efforts, utilizing their expertise in earthquake relief and recovery from the 1994 disaster. They have created a map to coordinate how Lions have been affected, as well as how they're helping.
Staff spoke to Lions on March 15: "The damage differs from place to place. Lifelines are mostly restored, but there is a gas shortage. I can't travel far in my car to assess the needs and damage," said Lion Tsugumichi Hata, who lives in Sendai."During the middle of the call, a 6.0 earthquake struck in Tokyo and was felt in Sendai. "This disaster hasn't stopped; it's still ongoing," said Hata.
"I just returned from Christchurch, New Zealand, and I thought I had seen it all, but this is unbelievable. Looking to the extraordinary dimension of this earthquake and tsunami, Lions and our Foundation are committed to providing immediate and long-term relief. Lions of Japan are often the first to respond to other disasters, and I ask all Lions of the world to show their solidarity and help the Japanese Lions during their time of need," said Eberhard J. Wirfs, Chairperson of Lions Clubs International Foundation.
Donations can be made immediately online or visit our Web site for other ways to donate. For questions regarding donations, please contact the Foundation at donations@lionsclubs.org or (630) 203-3836. Designated donations made from March 11-June 30 are eligible for Melvin Jones Fellowship recognition, per an exception by the Board of Trustees to the board policy.