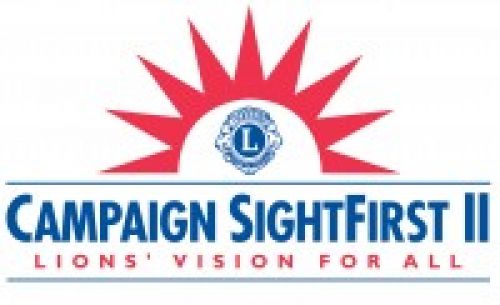 World Sight Day, which takes place in October each year, is used by Crofton Lions Club to try to make the general public more aware of the needs of the Blind and Sight Impaired. The pictures in this section show the 2011-2012 Mayor of Fareham, Cllr Trevor Cartwright MBE taking part in a "Blind Walk" where he experienced an Eye Health examination followed by shopping, travelling, eating and drinking, etc., as a blind person. He was later interviewed for the 'Portsmouth News' where he explained that it was an amazing and thought provoking experience.

Having "failed the tests" the Mayor starts on his journey as a Blind Person. Guided here by Lion Charlie Read and then by Nicky Corcoran


Various members help at each part of the "Blind Walk"
In the picture are the Mayoress, Ruth Cartwright, the Mayor, Lion President Reg Norton, Vice President Vicky Stabler and supporter Nicky Corcoran. In front is "Queenie", Guide Dog for the day!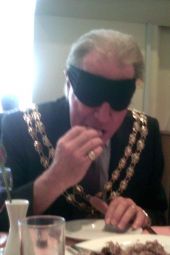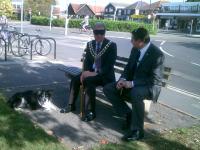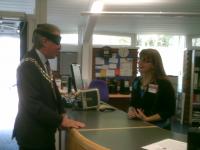 At the Library enquiring about facilities, taking a break with 'guide dog' Queenie and Gerry, his attendant, and undergoing one of the most difficult tasks...eating!
Lions also collect unwanted spectacles for recycling to use in third world countries. Each year we collect over 1000 pairs which, of course, means that 1000 people are going to be helped to see again.
Please look for any spectacles, especially childrens, that are no longer in use and either deliver them to the Optical & Hearing Centre on The Green, Stubbington, or call our Sight Officer, Lion Peter Holder on 01329.662086.
Peter's Pile! 1400 pairs of Spectacles
On a previous occasion in 2008 the then Mayor, Cllr Mrs Katrina Trott, went through a similar experience. She is seen below with Lion Peter Holder, and with two of our supporters Joe Ng, owner of the Imperial Garden Restuarant and Brenda, one of our blind neighbours.