Youth OpportunitiesLions Will Come
If you're in poverty,
Lions will come,
If you're starving in need of food,
Lions will come,
If your village is covered in litter,
Lions will come,
They change lives maybe yours,
They can help when you can't open doors,
They have guts, kindness and lots of heart,
The lions will come,
Because they are a part,
They are a part of our community,
They work together in unity,
Our community is well cleaned up,
Because of the lions we've got good luck,
Helping out at schools and fairs,
Only because they really care,
They sponsor cadet's, brownies and guides,
When they do a job they do it with pride!
Francesca Thurgood (age 13)Crofton Lions
Lions Clubs have a number of Youth related projects that reward and recognise their achievements through various competitions. We have listed the Youth Projects that Crofton Lions Club specically support.
There are other Youth related activities which are explained on our National Lions Website www.lionsmd105.org
If you would like to discuss any of our "Opportunities for Youth" please contact our Youth Officer, Lion Carol Channing via the "contact Us" Page
PEACE POSTER COMPETITION
This is an annual painting competition that we organise in co-operation with United Nations. It is designed for children from 11 to 13 years of age and, as the name suggests, the theme is Peace. There are various competitions at local, national and International level with the ultimate winner being invited to the United Nations in New York.
There are also competitions for 7 to 8 year olds and 9 to 10 year olds plus a Computer Aided Poster Competition.
This is the Merit Award Winner for 2008-2009 painted by Ming Shuan Soong of Malaysia
And this was the winning entry from the competition organised by Crofton Lions Club. Painted by Samantha "Sam" Harvey of the Stubbington Girl Guides and entitled "The Power of Peace" it shows people of all races working together to put our world together again.
Sam is also taking part in the Lions "Young Leaders in Service" Award Scheme.
YOUNG AMBASSADOR AWARD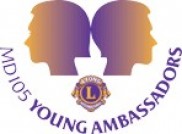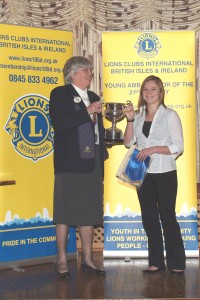 The primary aim of this Annual Competition is to recognise and reward the effort that many young people put into our local community.. Despite the prominance given by the media to the troublemakers in society, the vast majority of our young people are good, honest, hardworking young citizens who give up a lot of their free time to help others less fortunate than themselves, or perhaps spend time in furthering the aims of various Youth Organisations, e.g. Scouts, Guides, Cadets, St.John Ambulance, etc.
The scheme is open to Young People aged 15 to 18 years and competitions are arranged at local, National and European levels which, in addition to the recognition of their efforts, provides the opportunity to win Bursaries to further their chosen project
Rebecca Bellworthy, sponsored by Eastleigh Lions Club, was the winner of 2010 District Young Ambassadrs Award, she now goes forward to the National Competition.
LIFE SKILLS (TACADE)
Lions Clubs in the British Isles and Ireland wish to see that our young people receive the best possible education in the development of the skills which enable them to avoid the social problems that they may encounter during their school life. Consequently we have formed a partnership with 'The Advisory Council for Alcohol and Drug Education'-TACADE - which provide high quality education programmes. Lions Clubs promote and facilitate the use of these programmes in their local schools.
Smoking, excessive drinking and recreational drug taking are examples of the problems that TACADE educational programmes teach to avoid. More recently problem-gambling and handling bereavement are being addressed.
The programmes help teachers meet the Government Standards for Personal, Social and Health Education - PHSE.
As well as promoting the programmes many Lions Clubs pay the cost of installing them in their local schools.
LEOS
A Leo Club is formed and operated under the guidance of a sponsoring Lion club. The Leo clubs in the British Isles and Ireland can now be split into School Based Clubs (12-18yrs of age) and Community Clubs (14-28yrs). Whilst we all share the same name and strive to a common goal, helping others, we also have very distinct differences.
Leos are a group of dedicated, enthusiastic and energetic young people allowing it's members to help others and raise money by giving up a little of their time. The overall scope of Leos allows members to experience and enjoy meeting others and gaining new friends whilst sharing a common interests and goal. Leos encourages young people to gain confidence and experience by having responsible fun with a purpose.
LEOs not only stands for "Leadership, Experience and Opportunity" but also "Let's Enjoy Ourselves", and the Leos of the British Isles and Ireland make both these principles work to the fullest. Currently, the nearest Leo Club to us is at St. Edmunds School based in Portsmouth.
THE LIONS YOUNG LEADERS IN SERVICE AWARDS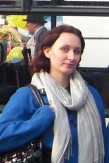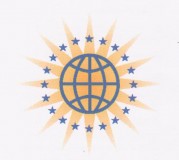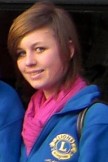 The Lions Young Leaders in Service Awards recognize young people (suggested ages 12-18) for their community service within a 12-month period: 50 hours of service = Silver Seal Award 100 hours of service = Gold Seal Award The benefits for young people taking part are that they will experience the rewards of community service, Achieve significant levels of community involvement , Receive recognition and awards. The Community will also benefit by Improving as a result of the young people's service efforts, It will become more aware of service opportunities, Nurture ongoing service by young people and others. The Lions Young Leaders in Service Awards program is part of the Lions Opportunities for Youth initiative. The "Young Leaders" sponsored by Crofton Lions and pictured here are (from left clockwise) Victoria Goodsell, Holly Chambers and Beki Chambers. All are 'going for Gold!'
The Goal of Lions Opportunities for Youth is:
To provide the young people of the world with opportunities for achievement, learning, contribution and service, individualy and collectively, through sponsorship of activities identified as best practices in the field of youth development
Youth Opportunities