MEET THE MEMBERS OF CROFTON LIONS CLUB 2016 - 2017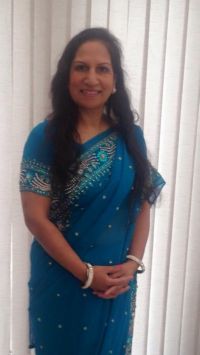 Pal has lived in Stubbington for 20 years and, until recently, she ran a small in the Village. Her family is grown up and so she is now able to devote more of her time to community activities. She is active with 'Love Stubbigton' the organisation based on the original Stubbington Traders, She helps with the Stubbington Youth Project and, of course, is one of the Crofton Lions. The rest of her Pride of Lions is made up of Danny Brooks, Donna Chant, Marc Eland, Steve Fulcher, Vanessa Horscroft, Reg Norton, Charlie Read, Alison Sales, Nelson Sclater, Mike Shipley and David West.
Lion Pal Hayre, President
Lion Alison Sales, Vice President
Alison, a retired MOD Police Officer, joined the Crofton Lions Club just 5 years ago. Such was her enthusiasm and energy that she has been elected President and commenced her 12 months in office on 1st July. She currently works as an Attendance officer at Bay House School and Sixth Form. Alison is married to Ade and has one daughter, Lily. The family is completed by the world's most spoiled dog, an Irish Setter called Poppy.
She also volunteers as a parent Governor at her daughter's school and enjoys volunteering locally, finding immense enjoyment from getting involved in community projects. Not surprisingly with all this activity in her "spare" time Alison was recently presented with a certificate and Volunteering Award by the Mayor of Fareham on behalf of 'Fareham Community Action'.
A proud Scot, originally from Glasgow, Alison loves living in Stubbington, loves the climate and the close proximity to the beach. She has no plans to return to Scotland at the moment but does miss the culture.
Lion Reg Norton, aka Father Christmas, Zone Chairman
A retired Personnel Manager, Reg helped to form the Club in 2000 and was its Charter President. He was previously a member of Fareham Lions Club, and this year celebrates 36 years service with Lions International. Other interests include being a Community Governor for Baycroft School, water colour painting, photography, short story writing & poetry and, of course, being Father Christmas (A nice job with 11 months holiday every year!). He has achieved the highest award in Lions International and in our Town having been awarded 'Citizen of Honour' in 2002, and more recently, a Melvin Jones Fellowship (Melvin Jones was the Founder of Lions International in 1917) and an International Humanitarian Medal.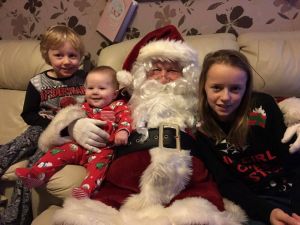 For the year 2016-2017 he has been elected as the Zone Chairman to act as the liaison between the District Governor and five local Lions Clubs (Crofton, Fareham, Gosport & Lee on Solent, Swanwick and Southampton Solent)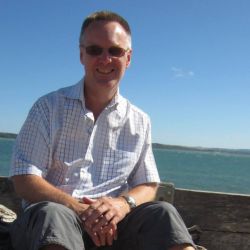 Lion Steve Fulcher, Treasurer
Although I have spent the last few years managing IT I am a degree qualified Chartered Engineer by profession and have spent my working life to date in the Energy sector, specifically conservation and management. I am quite passionate that we only have one planet with its finite resources, and we have a duty of care to pass these gifts to future generations in good condition - so words like Conservation, Sustainability and Circular Economy mean a lot to me particularly when balanced with a dose of pragmatism or technological flair.
Before joining Lions I had spent time as Parent Governor and on the PTA of my daughter's schools. I initially joined the Lions because I wanted to do something for the betterment of the wider (but local) community and felt that I could afford a few hours a month. I have found it hugely rewarding to see the enjoyment of others during the events we organise and attend, as well as the gratitude of those who benefit from the funds we collect on your behalf. At the time of writing I have been with Crofton Lions for 3 years and I was delighted to be voted by the team to the office of Club Treasurer at the beginning of 2015. Needless to say some of my first activities have been to introduce systems that reduce the amount of paperwork and make banking easier - it's great to think there may be one more tree still standing in the rainforest as a result !
Lion Frances Bond
Frances was previously a member of Gosport & Lee on Solent Lions Club so brought a wealth of experience to Crofton. She transferred to Crofton Lions Club in February 2010, and shortly after took on the key role as Secretary. Frances is very active in the "Message in a Bottle" Scheme and is currently a Lions District Officer with special responsibility for the Lions/United Nations "Peace poster" Competition, and also for the recently introduced Poetry Competition. Two of the Lions International Youth Projects,

Frances also volunteers with Drug and Alcohol Recovery programs under the banner ARC – Active Recovery Community - which is based in Fareham/Gosport. Frances also runs an Art & Craft group as well as helping to take a group solely for Women in Recovery. She had taken part in an Administrator role with setting up a new cafe in Gosport. Frances has two sons and one grandson, with whom she tries to spend time with when she can.
Lion Donna Chant
Donna originally joined the Crofton Lions in 2004 but later moved out of the area and was unable to take an active part in our club. A change in her circumstances has made it possible for her to return to Stubbington. She immediatly got in touch and it was our good fortune that she wanted to rejoin. She was warmly welcomed and in her first month became involved in two major activities, World Sight Day and the Bulb Planting Project. (Take a look at the relevent pages on this site). Since then she has taken a major role in the planning and organisation of our Festival of St. George in April each year. It was Donna who persuaded the Lions Club to raise funds to purchase the Outdoor Gym Exercise Equipment for adults that is now installed in Stubbington Recreation Ground
Lion Marc Eland
Marc has lived in the local area most of his life and in 2001 married Joanna in Stubbington Holy Rood Church. They have two children, Amy and James, who both attend local schools. Marc is very keen on keeping fit and as well as numerous local distance running races, completed the London Marathon in 2003. Despite his advancing years he regularly plays five-a-side Football and assists in instructing in a local Kempo JuJitsu club where he has obtained black belt level. Marc currently works for a large Portsmouth based filtration engineering company and in 1998 graduated from Portsmouth University with an Honours Degree in Business Information Technology. He has been an active member of Crofton Lions since joining and particularly enjoys the social side of club events and being a part of the local community. Like all of our members Marc is very enthusiastic and tries to get involved in every project.
Lion Dan Brooks
Lion Danny is a Director at Solent Funeral Services,and is one of our past presidents. Dan has been a tremendous benefactor for our Club by offering advertising and sponsorship for whole events. During his term as President he forged a link with the Lions Clubs of Lithuania, the homeland of his ancestors.
Dan is pictured here with his wife, Chris, at one of our Charter Anniversary Dinners.
Lion Vanessa Horscroft, Minutes Secretary
An accomplished actor, singer and dancer with a local theatrical and pantomime group. She uses these skills in our club as one of "Santa's Little Helpers"
During the early years of this Club Vanessa served as our Secretary and is currently the Minutes Secretary for all our meetings She is currently responsible for our spectacles and hearing aid recycling Project. She collected over 800 pairs in the village this year which brought the collective total from Hampshire Lions Clubs to 26,000 !!
Lion Charlie Read is the Clubs Health & Safety Officer
"A proud Essex man Lion Charlie Read has been a resident of Stubbington since 1987 and is a Charter (original) member of The Lions Club of Crofton.He has a wife ,Margaret and three adult children.
Although originally a teacher the lion's share of his working life was spent as a local government leisure officer latterly for nearly 25 years with Fareham Borough Council.
Whilst Lions International is an apolitical organisation Charlie has stood for election in a recent General Election and has supported his community as a Church Steward and School Governor over the years.

He took early retirement in 2010 but keeps himself very busy with a number of hobbies ,among them - giving time to Captaining a local bowling team ,being a Vice Chairman of a Wessex League football club ,singing in a local choir and giving Talks on such famous entertainers as George Formby and Tommy Cooper. He has been known to cavort around Stubbington impersonating that great comedian/magician!
A former Club President he is currently the club's Health & Safety Officer. He introduced the club's annual Big Quiz which has been staged for many consecutive years since 2002 and now works across the various operating committees that are the basis of the Club."
Lion Nelson Sclater
Born 3rd September 1928 in Perth (NOT Scotland but West Oz), Brought up in Hong Kong 1930/1940 being evacuated to Sydney before the Japanese came in December 41,Educated until 1947 when returned to HK, then Taiwan Hong Kong, Ghana, Nigeria, Libya and Bahrain before returning to GB (Stubbington) in 1984 working as a Loading Superintendent from Silos/Trucks to Ships retireing 1999 to join the Crofton Lions (not yet "finalised"?) in December that year.
Married a Scot (they are nice if you pick the right one), 3+1 =4 kids (3 Male + 1 Female), Had a dog 12 years then 2 dogs 12 years plus cats. ....far less trouble than kids!!!! Oh! Nearly forgot: Had a great time with the Lions especially checking Treasurer's accounts!!
Nelson, who has given tremendous service to our Club, is now a privileged member.
Lion Mike Shipley
Shortly after joining us Mike took on the role of Treasurer, and is also the mastermind planning most of our Fundraising activities. No sooner had he completed his stirling contribution to the Club's Christmas Activities than he was off organising the Easter Raffles of Giant Eggs and Rabbits! Also during the Easter Weekend Mike will be heavily involved in the fundraising side of the Crofton Lions "Festival of St. George" Use the 'Contact Button' to book a Stall for that event.
You want something to happen, and want to make sure it goes as planned, Ask Mike!
He is the Master Planner and Co-ordinator.
Lion David West
When we asked David why he joined the Lions this was his response: "I'm rather new to Lions, having only joined last year (2014). I've grown up in Stubbington and have a love for the community, a feeling of its history and a deep joy in the life of the natural world which reached into the very heart of our village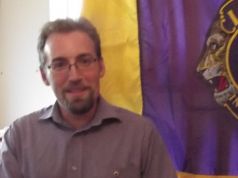 I guess I'm like so many people in that I'm still learning about the world around me and even about myself. In that respect I've discovered I love travelling and seeing more of this lovely country. Strangely, I think being a Lion is somewhat similar to that and that is the heart of why I joined - because being a Lion gives me a chance to be even more a part of my community and, hopefully, help others around me.



The Club Almoner
Lion Vivienne Pugh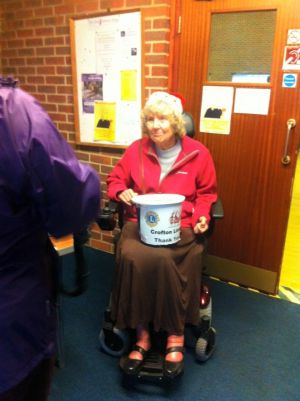 Vivienne is our Vulnerable Persons Officer. She is a "Dementia Champion ", working very closely with Dementia UK, she runs training courses for local shopkeepers and their Staff. One very successful project that she initiated is hosted by her in the Stubbington Library. Every 3rd Saturday of the month Vivienne hosts a "Want to know more" session where she provides information and advice on three areas of activity, Community Action Fareham, Demntia UK and The Crofton Lions Club.
**********************************************************************************************************************
Lions Vicky and Tony Stabler recently left us to transfer to The Lions Club of Jersey
Tony Stabler and his wife Vicky, are the newest members of the Crofton Lions Club. They were introduced to the Club when they answered an appeal by the Lions for help collecting donations with 'Santa' during December 2010. They enjoyed themselves so much that they volunteered to help in other projects and are now both actively involved in the organisation of the annual "Festival of St George".
After studying Modern Languages at Portsmouth University, Tony worked in a variety of roles, most notably building a successful Stock Broking and Financial Advice business in Portchester in 2009 and he is currently employed by leading Wealth Advisers Towry. He has climbed Mount Kilimanjaro in Tanzania, will break two hours for a half-marathon in 2011 and makes his own wine. Tony hopes that his positive attitude, drive and strong communication skills will be of great value to the club.'