The 2012 Festival of St.George will take place on SATURDAY 21st APRIL.
Already booked are Punch & Judy, Jonathan the Jester, The Weorod Re-enactment Group, Trigger the Train, Hampshire Garland Morris Dancers, Cascade South Downs Harmony Chorus, Orange Apples Storytellers, Actors from the Titchfield Festival Theatre, the Birnie Boozle Band and the Gosport Bowmen. Then, on SUNDAY 22nd look out for an absolutely massive procession of Minis, Motorbikes and Scooters flying the flag on their traditional "Ride-Out" from The Red Lion in Stubbington.
Meanwhile, if you were not able to be with us for previous events, scroll down and see what you've been missing!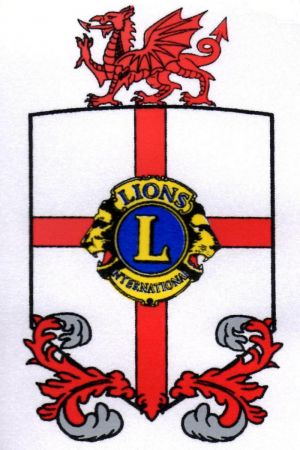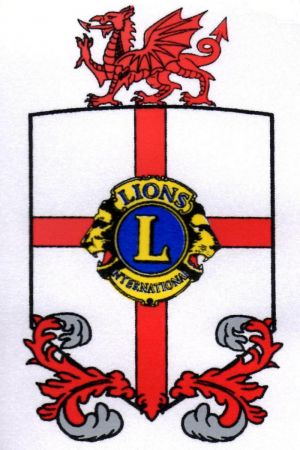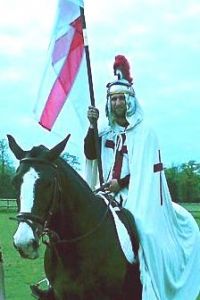 Wow! What a great day we had. The 5th "Festival Fayre" took place in Stubbington Recreation Ground and on The Green on St. George's Day, Saturday 23rd April 2011. Hundreds of people turned out to support us and from the feedback we have received it was a tremendous success. Thats not just our opinion. Excellent reports appeared in the NEWS, the ECHO, FAREHAM PEOPLE, many 'freebies' and on BBC Radio Solent! All of them offering congratulations and reporting that the event was a great success.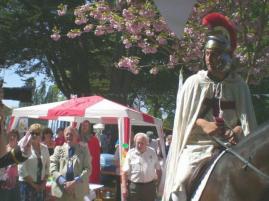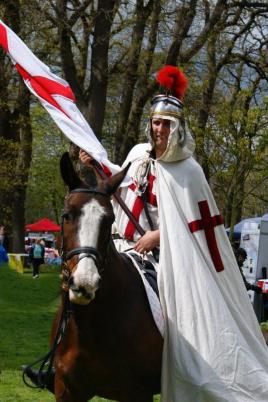 The arrival of St.George portrayed by Matt King from Crofton Riding School

Our grateful thanks must go to all the entertainers, stallholders and supporters for their wonderful contributions to the success of the Festival Sincere thanks also to our friends, the Stubbington Traders Association, and their Chairman Simon Wimble, and to the Stubbington Fayre Committee for their additional support and co-operation for this years show.
The Festival began on the Queens Birthday, Thursday 21st April when, accompanied by The Town Criers, Barry and Bobbie Roberts, we toured the Pubs announcing the Birthday and toasting the health of Her Majesty. The Town Criers were able to read a message from Buckingham Palace which wished us "an enjoyable and memorable event!" This gave Crofton Lions the opportunity to distribute Festival Brochures. The generous patrons of The Red lion, The Golden Bowler, The Crofton and The Cuckoo Pint contributed £117.00 in donations on that night.

Messages of support and congratulations were received from:

Buckingham Palace
(please click on the image to see the letter)

The Lions Club of Beirut, St. George is the patron saint of Beirut
(please click on the image to see their letter)




The Lions Club of Moscow, St. George the Victorious is also the patron saint of Moscow
(please click on the image on the left to see their letter)



On the day, thanks to our publicity, reporters and photographers including Roger Hammett from BBC Radio Solent visited the Fayre.
He is seen here talking to Lion Vicky Stabler about the Easter Egg Hunt and Childrens Fancy Dress Competition that she was organising later in the day.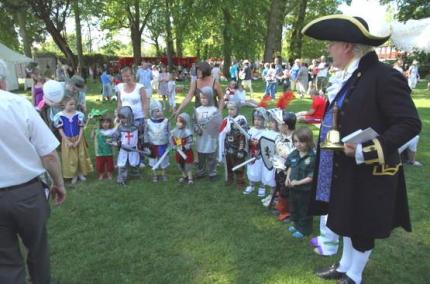 The Best turn out we've ever had for the Fancy Dress Competition
Photos by Steve Pilcher http://farehampeople.co.uk
Lions Tony and Vicky with sons Fred 4, Alfie 2, and George 6 came well prepared to lead by example!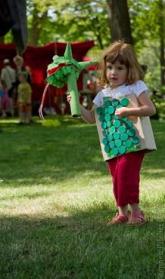 Kate Iliffe a 3 year old Dragon
Double Trouble Twins Tom & Joshua
But, first we had youngsters taking part in our traditional "International" Football Match England (& St. George) v. Wales (& The Dragon)

All of these 'Under 8' Players received an International Medal from the Mayor of Fareham, Cllr Brian Bayford. The winners were Crofton Saints F.C. representing England. Their worthy opponents were Stubbington F.C.

Photos by Steve Pilcher of Fareham People http://farehampeople.co.uk
WEOROD, the early medieval re-enactment group whose mission is "To shed some light on The Dark Ages," was a major attraction this year
Roger Hammett of BBC Radio Solent attempting to interview two Weorod Warriors! Should have waited till they returned to the 21st Century. It would have been a lot safer!
(Wonder if he has completed a Risk Assessment?)


Also in attendance a Medieval Barber Surgeon, Steve Bacon, with some gruesome exhibits!
Jonathan the Jester with his apprentices, Kevin and Ash
Photo by Steve Pilcher of Fareham People
Geoffrey Gould, the Punch and Judy man was back for a second year. Here "Mr Punch" is seen being interviewed by Roger Hammett for the Sasha Twining Show on BBC Radio Solent.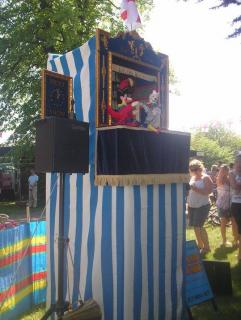 "Thats the way to do it!"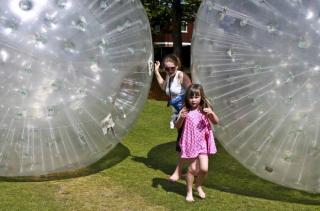 New additions to our show this year included Giant Zorb Balls for "Human Hampsters"! and the Hornpipe performed by the Warsash Sea Cadets who also gave us a demonstration of club swinging. Both exercises derive from on board physical training in the Royal Navy of the 19th century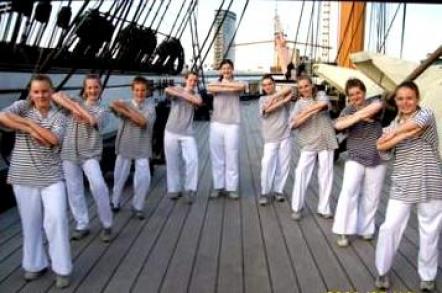 The cadets came from a relatively new unit of Sea Cadets called T.S. Tormentor
The Bernie Boozle Band led by Fred Mitchell of the Swanwick Lions Club also entertained us through the day.
The Wickham Morris danced for us
in the Park and on The Green,
and
The Fishbourne African Drummers made a welcome return to our Festival.
Their music was played to commemorate the lives of Mary Kingsley from Cambridge and Richard Francis Burton from Torquay who were two of the first explorers to go into West Africa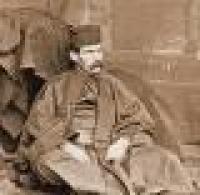 Richard Francis Burton from Torquay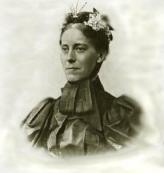 Mary Kingsley from Cambridge
Two very welcome, and unannounced, attractions on the day were two of our emergency services.
Matt Rolfe and Emma Collier from Red Watch
Hampshire Fire and Rescue Service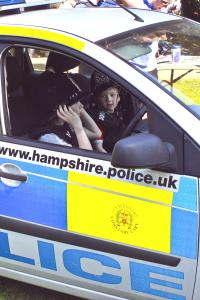 Is it my imagination or are the Police Officers getting younger?!
PCSO Emma Shore and PCSO Andy Leeks

Crofton Lions wish to thank them for their tireless work for our community, and for being with us today.
Lion Reg Norton, the current President of our Club says "It is also time to thank our own members of Crofton Lions Club and the many friends who volunteered to help make the day very special. Included in that list of friends is the Mayor and Mayoress Cllrs. Brian and Susan Bayford who postponed their holiday to be with us!"
Lion President Reg says a sincere "Thank You" and presents a traditional Rose of England to the Mayoress
Unsung Heroes
David Cliefe, one of many friends who volunteered to help with Lion Mike Shipley, our Treasurer and the Site Co-ordinator for this event.
The Show's over for today, time for some Late Knight Shopping!
Photos by Stive Pilcher http://www.farehampeople.co.uk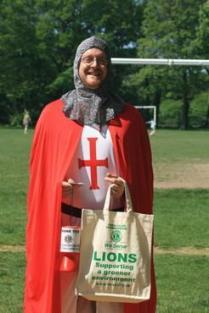 Or simply take a break!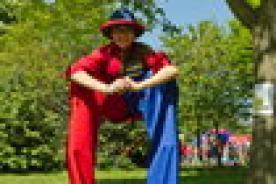 Because, on the following day, Sunday 24th April, Minis, Motorbikes and Scooters converged on Stubbington for our Annual St.George's Cavalcade organised by Becca and Ian at The Red Lion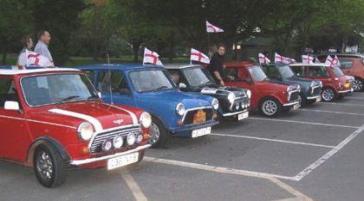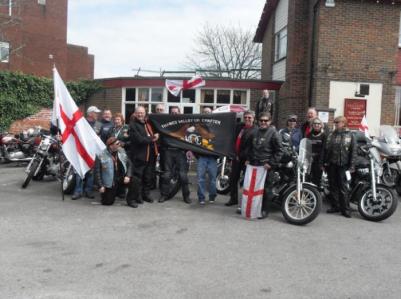 Would you like to be part of the 2012 event?
Crofton Lions intention is for the Festival to continue to be a whole Community Event so if you, or any Organisation that you belong to, would like to be included in the performance programme please use the 'Contact Us' button or call Lion President Reg Norton on 01329 663661 or eMail him at reg4croftonlions@aol.com
To book a Stall for this years event of Saturday 21st April please contact Lion Donna Chant on Stubbington (01329) 314391

Meanwhile, here are some images of previous years.. THE FOLLOWING ACTIVITIES FORMED PART OF OUR 2009 "FESTIVAL OF ST. GEORGE"


One of the big attractions at the Village Fayre in 2009 was Nasira and her Turkish Belly Dancers (St.George came from Cappodocia in Northern Turkey.


Nearly 60 Bikers and 20 Mini Car Drivers took part in the ride last year, the 50th Anniversary of the Mini. All of them flying the Flag and many wearing Red & White they rode into Stubbington as modern day "Knights of the Road". The evening was a great success meeting old friends and making new ones, and enjoying the great Burgers at THE RED LION.
Friday, 24th April 2009
in Crofton Community Centre
We had a superb Musical Evening with "NOSTALGIA"
featuring Reg, Cheryl & Dave, Duets from Hazel & Margaret, the young singing sensation 'Channele' and Wayne Coates..Comedian, Musician and vocalist.
Music & Songs from Yesteryear as part of our celebration of the Festival of St. George Tickets £7.00 (£5.00 for Senior Citizens and Children) available at Crofton Community Centre or Telephone Lion Reg Norton on: 01329 663661
Then, on Sunday, 19th April 2009 Nearly 600 Scouts from the Fareham West District mustered in Stubbington for their traditional 'St. George's Parade' at 2.00 p.m. led by the District Scout Band. The Salute was taken at the Crofton War Memorial by the Mayor and Mayoress of Fareham, Cllr Ernest Crouch and his wife, Enid. They were accompanied by District Commissioner Lester Eyres and one of the County Comissioners. Later, in the Stubbington Recreation Ground all Sections renewed their 'Promise' and listened to an address by Rev. Bill Matthews in which he explained the meaning behind the various flags carried in the parade finishing with the Cross of St. George Flag of England.

*********************************
Remember, Crofton Lions want this Festival to be a "Whole Community" Event so if you would like to be included in the programme of future events please contact our Festival Coordinator, Lion Reg Norton on 01329.663661 or eMail reg4croftonlions@aol.com
Or, if you would like to book a Stall please contact Lion Donna Chant on Stubbington (01329) 314391
Additional information will be posted on a daily basis on the Crofton Lions Facebook pages.