HELP IN THE SOUTHERN UNITED STATES
The last few months have seen great destruction across our globe. But, like me, I am sure you are proud of how we Lions and our global Foundation have been quick to respond. Now, in the case of the Southern United States disasters, we are giving a hand and giving hope to those in greatest need.
The Foundation has already provided US$160,000 in emergency grants for immediate relief across eight states since mid-April. We are mobilizing an additional US$250,000 for continued relief efforts. The destruction and death tolls continue to rise from the deadly tornados and storms throughout the U.S. during the month of April. I continue to be shocked and saddened by this news. It is the largest tornado outbreak in the history of the U.S., with at least 178 tornados killing more than 300 people.
Thousands of people across several states have been left homeless. Lions have also been greatly impacted. But they are committed to meeting the urgent needs in their communities. In hard-hit Birmingham, Alabama, Lions have set up a warehouse staging area to collect and distribute donated goods, including emergency supplies such as water and food. Twenty-seven Lions clubs in District 12- O, Tennessee are providing 200 families with prepared food boxes, needed medical supplies and eyeglasses.
"Lions from around the world have called me to hear how the local Lions are doing," said Lions International Director Yamandu Acosta, of Alabama. He has received calls from Australia, Spain and Peru, as well as others. Lions, you know well that Lions Clubs greatest asset is our volunteers-you and 1.35 million Lions around the world. Wherever there is a need, there is a Lions club nearby, ready to respond with their hearts and hands.
Your generosity in the case of disasters allows us to be the first to offer help. Lions, I ask for your help in making the hope for a brighter tomorrow a reality for the people in these devastated areas.The most effective and immediate way to help is through a designated donation to LCIF for Southern United States relief. I have seen some of the recent destruction first-hand in New Zealand, and next month Margit and I will be in Japan and Haiti to visit with Lions and view our relief efforts there. Lions, we can take great pride in our long history of providing relief for as long as it takes. I hope I can count on you to once again give your full support to give help and hope in the Southern United States.
Lions Providing Immediate Relief in Japan
US$5 Million from Foundation Supporting Lions' Efforts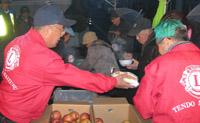 Japanese Lions serving traditional potatoe soup to evacuees.
In the case of disasters, Lions volunteers are often the first to respond, and continue to help for as long as it takes until all work is done. As volunteers of the world's largest service club organization, Lions live in the affected communities, so they best know the needs of the community and are able to respond quickly and efficiently. They share a passion for rebuilding their communities.
With more 107,000 Lions in Japan, they are already mobilizing to provide immediate relief. Lions Clubs International Foundation is providig US$5 million to support Lions' relief efforts. This includes grants as well as donations from Lions around the world.
The Foundation has established a designated fund for donations for disaster. Donations can be made in confidence, for 100 percent of every donation will go directly toward disaster relief. The Foundation has more than 40 years of experience in disaster relief, and all funds are administered by local Lions in the area.
"On behalf of all Lions of Japan, we wish to thank all of you for your support," said Lions Clubs International Director Yasumasa Furo. Lions are appreciative of the immediate response of the Foundation and Lions' worldwide.
The Tohoku Region Pacific Ocean Coast Earthquake is the worst earthquake to hit Japan in over 100 years. Following the earthquake was a powerful tsunami and fires. The death toll continues to rise, and tens of thousands of people have been displaced, and many Lions have also been personally affected. March 14 members were finally able to make contact with some Lions in the hardest hit areas, but remain concerned for the health and safety of many. The electricity and communications finally returned to the area on March 17.
Already, Lions have established two relief command centers in the affected areas, as well as one in Tokyo at the Lions Office. The Kinomoto Lions Club drove a 10-ton-truck full of emergency supplies to Fukushima . The truck included 3,500 servings of instant noodles, 2,400 2-liter bottles of beverages, 5,000 diapers, 1,650 boxes and 1,000 pocket packs of Kleenex, 1,500 disposable hand warmers, 400 cans of food, 300 servings of instant miso soup, 12,000 pairs of disposable chop sticks, as well as buckets, blankets, kerosene and more.In devastated Miyagi, Lions served homemade stew to 100 elderly. These are just a few examples of the many stories of Lions' exemplary service. Lions in Kobe are helping lead these relief efforts, utilizing their expertise in earthquake relief and recovery from the 1994 disaster. They have created a map to coordinate how Lions have been affected, as well as how they're helping.
Staff spoke to Lions on March 15: "The damage differs from place to place. Lifelines are mostly restored, but there is a gas shortage. I can't travel far in my car to assess the needs and damage," said Lion Tsugumichi Hata, who lives in Sendai."During the middle of the call, a 6.0 earthquake struck in Tokyo and was felt in Sendai. "This disaster hasn't stopped; it's still ongoing," said Hata.
"I just returned from Christchurch, New Zealand, and I thought I had seen it all, but this is unbelievable. Looking to the extraordinary dimension of this earthquake and tsunami, Lions and our Foundation are committed to providing immediate and long-term relief. Lions of Japan are often the first to respond to other disasters, and I ask all Lions of the world to show their solidarity and help the Japanese Lions during their time of need," said Eberhard J. Wirfs, Chairperson of Lions Clubs International Foundation.
Donations can be made immediately online or visit our Web site for other ways to donate. For questions regarding donations, please contact the Foundation at donations@lionsclubs.org or (630) 203-3836. Designated donations made from March 11-June 30 are eligible for Melvin Jones Fellowship recognition, per an exception by the Board of Trustees to the board policy.